Welcome to the website of Voice for Ethical Research at Oxford! If you would like to have more details about anything said or shown in these pages, or would like to join our mailing list, please contact us at mail@vero.org.uk.

ABOUT VERO
VERO is a University-based group founded in 2006 to oppose the use of animals in medical research at Oxford. That year was the twentieth anniversary of the Animals (Scientific Procedures) Act, which put into law the principle that researchers should only use animals where no other method of research would work.
Those who devised the Act intended and expected that animals would therefore gradually disappear from the UK's laboratories, as new and better techniques of research were developed. That has not happened. Although the numbers of animals in UK laboratories did decrease for a while, they have been steadily going up again since 2000, and in 2006 Oxford University directly championed the unwanted trend by building a large new laboratory wholly devoted to animal experimentation. Such a project was quite contrary to the spirit of the law and to the public feeling which prompted the law, and VERO was originally set up as part of the protest against the building.
OXFORD'S BIOMEDICAL SCIENCES BUILDING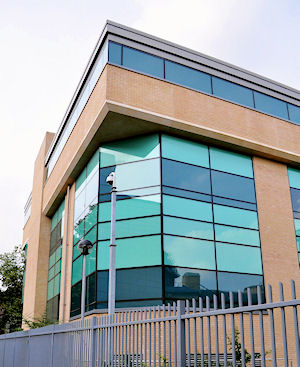 The University's new laboratory holds about 16,000 animals. The annual turnover of animals is well over ten times that number: in fact, more than 217,000 animals died in or after experiments in the building during the year 2016. They were mostly rodents, but included non-human primates (eight of them), frogs, fish, rabbits, and others species. Of all the U.K. universities, Oxford is presently the largest user of laboratory animals.
VERO'S AIMS
VERO is emphatically in favour of medical research and progress, but it wants Oxford's leading part in that progress to be untainted by the immorality of making other animals suffer for our benefit. It therefore campaigns with the following five objectives in mind:
to promote public awareness, especially within the University, of the use of animals in Oxford science, and of the urgent moral and scientific questions that raises;
to remind the University of its obligations under the 1986 Act (as amended in 2013), and to challenge its vague and inadequate public assurances on the subject;
to persuade the University that it should become less secretive, and – again in accordance with recommendations in the Act – that it should involve more lay people in its ethical reviews of research projects and research policy;
to urge the University to re-direct its funds and talent away from animal research and into the pioneering of human-based research technologies;
more generally, to encourage and support student interest at Oxford University in the rights of animals.
VERO's support comes mainly from the University's academic and administrative staff, students, and alumni, and from Oxford townspeople, but interest from others is always very welcome. Our e-mail address is given at the top of this page.