Previous Events
View Michaelmas Term 2012
View Hilary Term 2011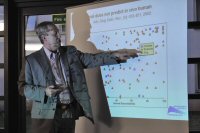 On 13 October, we were delighted to welcome Dr Ray Greek, President of Americans For Medical Advancement, and one of the leading opponents of vivisection within the scientific community. The visit was arranged as part of a UK tour to promote Dr Greek's latest book, Animal Models in Light of Evolution, co-authored with Prof. Niall Shanks. A physician, university teacher and clinical researcher who has published extensively on the subject of animal experimentation and its weaknesses, Dr Greek refuted in particular the notion that animals can be used to predict drug and disease response in humans. The few studies that had been conducted comparing the outcomes of human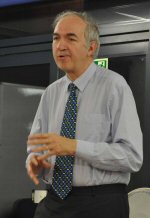 and animal based tests consistently showed the predictive value to be no better - and often much worse - than tossing a coin, and this hadn't changed since the 60s.
So why does vivisection persist? For our next speaker meeting, on 11 November, we solicited the views of a former politician. Nick Palmer, the current Director of International and Corporate Affairs at the BUAV, was a Labour MP for 13 years who served as Vice-Chair of the All-Party Animal Welfare Group and Parliamentary Private Secretary to the Animal Welfare Minister. Dr Palmer identified the lack of transparency as one of the key obstacles standing in the way of progress on animal replacement. In order to be able to weigh the benefits of animal research objectively against the suffering involved, we need to know the details of that research, yet the law currently allows this information to be withheld via the loophole of "commercial sensitivity". He was encouraged by the 2006 Animal Welfare Act, however, as a piece of primary legislation which could be built on, and stressed the need for politicians to work on a cross-party basis on such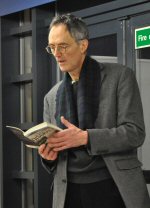 issues. In his own experience, MPs were motivated by a mixture of ideals and expendiency, and were open to persuasion if approached in the right way. He also advised that, when writing to them, it was much more effective to ask them to lobby the responsible minister.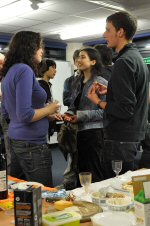 Finally, on 28 November, Dr Matthew Simpson presented the case for animals as it appears in the fiction of J.M Coetzee, winner of the Nobel Prize for Literature in 2003 and a patron of VERO. Two of Coetzee's novels in particular - The Lives of Animals and Disgrace - dramatize with tragic force our modern failure to make honourable terms with other creatures. Human reason, so far from guiding us to something better, has shortened our sight and ambitions in the matter. Coetzee's two novels seem to direct us instead to something more elementary than thought or language: the pre-intellectual life of the whole body, which all animals share and through which alone they can fully recognize and honour each other. For an earlier published article on this subject by Dr Simpson, see here.
Also this term, an alternative cheese & wine evening was organised by the Oxford Student Vegetarian Society and VERO. An impressive number of students came along to sample vegan cheeses, find out what's different about vegan wine (i.e. the absence of slaughterhouse and other animal products), and discuss ways of "campaigning for animals, ethics and the environment at Oxford". It was a very enjoyable evening, and hopefully the first of many similar collaborations by University groups working towards a more compassionate future.
View Hilary Term 2010
View Michaelmas Term 2009
View Trinity Term 2009
View Hilary Term 2009
View Michaelmas Term 2008
View Trinity Term 2008
View Hilary Term 2008
View Michaelmas Term 2007
View Hilary Term 2007
View Public meeting held on November 28th 2006