Previous Events
View Michaelmas Term 2012
View Hilary Term 2011
View Michaelmas Term 2010
View Hilary Term 2010
View Michaelmas Term 2009
View Trinity Term 2009
View Hilary Term 2009
View Michaelmas Term 2008
View Trinity Term 2008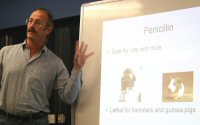 Once again, a series of wide-ranging and thought-provoking talks was organised at Mansfield College, and people were encouraged by the friendly atmosphere and refreshments to linger and discuss the matters at issue.
In 3rd week, Andre Menache, Scientific Consultant of Antidote Europe, highlighted the hopeless inadequacy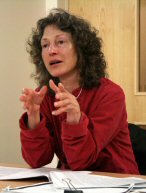 of current animal-based methods to test the approx. 30,000 chemicals proposed by the EU REACH directive (Registration, Evaluation, Authorisation and restriction of Chemicals). Such methods would require 12.8 million animals, cost billions and take 2,000 years to complete! The real way forward, Andre argued, was to use the modern, human-based technique of toxicogenomics, which is species-specific, fast, cost-effective and able to cope with the "cocktail effect".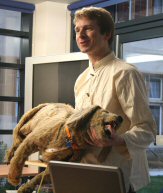 In 5th week, Katherine Morris, founding VERO member and fellow in philosophy at Mansfield College, posed the question "Do we really need all those medicines?, arguing that adverse drug reactions are not merely the result of animal testing, but a symptom of the general medicalisation of our society, where over-reliance on drugs distracts us from the real causes of illness and destroys our ability to deal with it in an autonomous way.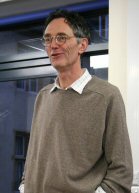 In 7th week, Nick Jukes, Coordinator of InterNICHE, the International Network for Humane Education, stressed the importance of "ethical and emotional literacy" in life science education, and gave a fascinating demonstration of some of the alternative tools his organisation is helping to disseminate throughout the world, including multimedia computer simulations and a state-of-the-art dog model enabling veterinary students to hone their skills far more effectively and humanely.
In 8th week, founding VERO member Matthew Simpson gave a talk entitled How Physiology came to Oxford: the New Lab and its Adversaries in the 1880s'. He showed that some of the leading figures of the University had fought a passionate campaign against the introduction of vivisection at Oxford. At their head was the newly appointed Bodley's Librarian, E.W.B.Nicholson. There were unprecedented scenes in the Sheldonian Theatre when the matter was finally debated, and although the votes went against Nicholson's party, a whole Oxford generation had been taught a lesson in tomorrow's ethics. The lesson, as we know, continues.

View Michaelmas Term 2007
View Hilary Term 2007
View Public meeting held on November 28th 2006