Previous Events
View Michaelmas Term 2012
View Hilary Term 2011
View Michaelmas Term 2010
View Hilary Term 2010
View Michaelmas Term 2009
View Trinity Term 2009
5 March - Public Meeting: 'Replacing Animals in Research: What's Happening in Europe?'


Organised by VERO at Oxford Friends Meeting House
Speakers:
Caroline Lucas MEP, Green Party Leader
Mike Baker, President Eurogroup for Animals
Emily McIvor, Policy Director Dr Hadwen Trust for Humane Research
Chair:
Sir David Madden, WSPA Consultant and ex UK ambassador to Greece
With the European Parliament poised to debate a long-awaited revision of the outdated Directive (86/609) governing animal experimentation across the EU, this question could not have been more topical, nor the speakers better qualified to answer it. The meeting attracted a large audience, who heard about the progress of the new draft proposal so far: the attempts by animal protectionists on one hand to negotiate improved animal welfare and transparency measures, and the determination of commercial interests on the other to undermine such measures. The panel stressed the significance of this rare opportunity to put the EU ahead of the world both in terms of animal protection and the quality of its scientific research, and urged the public to support the campaign to achieve this.
You can read a full report of the meeting here.
5 March - "Go3R" presentation: a visit from Germany

At the public meeting (see above), it was interesting to hear Caroline Lucas cite the German national centre for alternatives to animal experiments (ZEBET) as a particularly progressive institution within Europe. As it happened, a representative of that organisation, Dr. Barbara Grune, had visited Oxford on the very same day, in order to give a presentation to the various animal-research ethics committees of the University. This visit was inititated and arranged by VERO. Established in 1989, ZEBET is incorporated within Germany's Federal Institute for Risk Assessment and - unlike most national centres - is state-funded. It is strong on replacement and has pioneered many new techniques internationally, as well as documenting and evaluating alternatives and coordinating validation studies. One promising new project, which VERO members had initially heard about at an expert briefing on replacement at the European Parliament last year, concerns a "semantic search engine" called "Go3R" (www.go3R.org). Developed in collaboration with the company Transinsight GmbH and the Technical University of Dresden, this new technology is designed to enable scientists to determine the availability of 3Rs alternatives to animal experiments faster and more reliably (the developers cite time savings of 90 per cent and more). The purpose of Dr Grune's visit was to present this new technology and encourage feedback on what is currently still work in progress, but will hopefully expand to become a resource for scientists world-wide.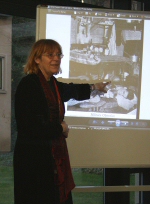 Further information on Go3R is available here: Show

12 March - Talk by Dr Hilda Kean of Ruskin College (author of Animal Rights: Political and Social Change in Britain since 1800)
In 'The Great Cat and Dog Massacre of World War II', Dr Kean told the astonishing story of the voluntary putting-down by their owners of hundreds of thousands of pet dogs and cats in the first weeks of the Second War. Why did it happen? Dr Kean's search for an answer uncovered many fascinating documents of the time, including government advice on the care of dogs and cats during air raids and Mass Observation studies of the relations between pet animals and humans. This material all seemed to record the close and loyal terms on which people and animals shared war-time experiences. The "massacre" is therefore a puzzling anomaly: was it fear of gas attacks which animals couldn't survive, fear of infections or of food shortages, or general panic? This is work in progress for Dr Kean, as yet unpublished, and she provided no single, conclusive answer. The talk brilliantly exemplified her pioneering work in the writing of animal history.

View Michaelmas Term 2008
View Trinity Term 2008
View Hilary Term 2008
View Michaelmas Term 2007
View Hilary Term 2007
View Public meeting held on November 28th 2006