Previous Events
View Michaelmas Term 2012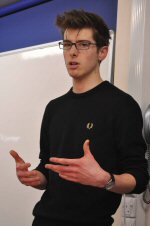 On 27 January, we were delighted to welcome 2nd-year English student Josh Gaskell, who shared with us some reflections on "Animal Ethics" based on an essay which deservedly won him last year's Mansfield College Essay Prize. Josh argued for a new, universal morality that transcends the "fallacy of human uniqueness" and recognises that humans are part of the continuum of life on earth. If our definition of moral progress is the movement away from the oppression of the weak by the strong - and our history so far (as illustrated by the emancipation of women and the abolition of slavery) suggests that this is indeed the consensus view - then it is logically imperative to extend our system of ethics to non-human animals. To read Josh's excellent essay in full, click here.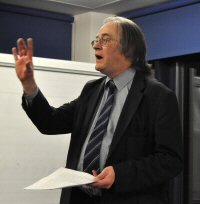 On 10 February, the distinguished philosopher Professor Stephen Clark spoke about the place of animals in moral and spiritual thought of the past and present. He showed that it was the rationalism of the Enlightenment which first condemned animals to thing-status in a world seen as divided between triumphant human reason and the objects of its attention. The modern sciences of evolution and genetics, which might have revived our sense of original fellowship, have in fact tended to endorse our sense of solitude and our selfishness. But during the last forty years, philosophy has been studying the human-animal relationship anew, and has shown what great and essential obligations we have to rescue and honour it. The obligation which Professor Clark himself has especially studied is that which Aristotle himself recognized, and which most religions, including Christianity, have expressed: the obligation to value and revere the whole natural world as a beautiful and sacred creation. Hence Professor Clark's title: 'Many Traditions, One Moral: Transcending Humanism'.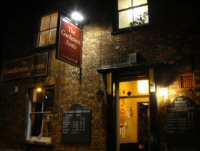 This talk, organized by VERO in collaboration with Oxford Vegetarians, was the first annual lecture in memory of Margery Jones, the founder of the Society and an important and admired presence in Oxford when animal rights philosophy was being pioneered there in the 1970s, and long after.
On 24 February, Oxford's unique vegetarian pub, the Gardener's Arms (Plantation Road), provided an ideal backdrop for a joint supper with the Oxford Student Vegetarian Society (OSVS). It was very encouraging to hear about new initiatives such as the recently formed vegan group (www.groupspaces.com/oxfordvegans) and the regular OSVS reading group, and to share ideas for promoting animal protection at Oxford. VERO reiterated its willingness to provide help and support for any student group with these aims, and its keenness to ensure that the subject of animal ethics remains very much alive at the University.
View Michaelmas Term 2010
View Hilary Term 2010
View Michaelmas Term 2009
View Trinity Term 2009
View Hilary Term 2009
View Michaelmas Term 2008
View Trinity Term 2008
View Hilary Term 2008
View Michaelmas Term 2007
View Hilary Term 2007
View Public meeting held on November 28th 2006