Previous Events
View Michaelmas Term 2012
View Hilary Term 2011
View Michaelmas Term 2010
View Hilary Term 2010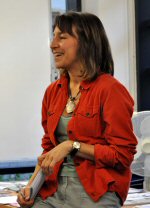 The term began with an introductory evening, when Sharon Howe, founder member of VERO, told an audience of new students and others about VERO's campaign so far. A few years ago, the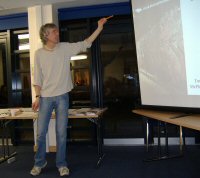 enthusiastic response to Sharon's own media coup - publicly returning her MA to the University - was the prompt to set up a University-based organisation to take on the combination of publicity, debate, information-spreading, and formal and informal representations to the University authorities, which have been VERO's business since then. It was good to have new suggestions and advice from the students in the audience. We then showed the short film Save the Primates, made by Animal Defenders International, which movingly reminded everyone why all this trouble is necessary.
In fourth week, Paul Freestone presented 'A Short History of Vegetarianism', illustrated afterwards with some of his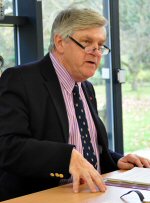 own accomplished cooking. Paul is another founder-member of VERO, and a frequent speaker in the schools of the Oxford region on this and other animal-related subjects. His talk made a comprehensive sweep of the vegetarian mind from Pythagoras to Morrissey, with its key texts and key events, and concluded with a photograph (USA, circa 1910) of two men posing on a giant heap of buffalo skulls - the opposite of vegetarianism, and an eloquent image (Paul himself is a professional photographer) of the fatuous hubris of our species in its unhappy relations with all the others.
In seventh week, VERO began what is intended to be a continuing series of lunch-time events - to complement, not replace, the early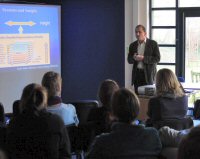 evening ones, and designed to appeal to the scientists who work just down the road from our regular venue in Mansfield College. On this first occasion our speaker was Professor Michael Balls, once a Zoology student at Oxford and later Professor of Medical Cell Biology at Nottingham, a University which sets an example of practical commitment to the replacement of animals in research. Professor Balls was a key adviser to Home Secretary David Mellor on the drafting of the 1986 Act which still regulates vivisection in Britain. In his talk, 'The 1986 Act: a Broken Promise?', he spoke about the hopes, intentions, compromises, and subsequent career of that surprisingly aspiring Act. The answer to the title's question was clearly "Yes".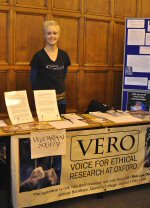 The second lunchtime talk was given by Dr Peter Kohl of Oxford University, one of Professor Noble's team in the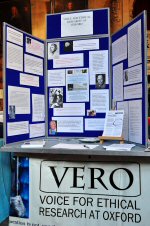 development of a computer model of the human heart, and also a leading researcher in the international project to create a "Virtual Physiological Human". Dr Kohl's title was 'The Role of Models in Biomedical Research', and he gave a vivid account of this important subject, with special reference to his own work on the heart. It is always good when the University's own scientists are willing to make their work and their thinking open to the attention and question of others, including other scientists, like this. We try to make it also more common.
VERO was also represented as usual at Freshers' Fair in October. This time we used part of our stall to promote the founding of a student Vegetarian/Vegan Society, which proved a very popular project. With all the names gathered, VERO supporter Ellie Hale organised an inaugural supper, and we hope that this society will now flourish and endure as a student institution for social events and practical projects in the University.
In December VERO was again represented at the Oxford Green Party's Winter Fair.

View Trinity Term 2009
View Hilary Term 2009
View Michaelmas Term 2008
View Trinity Term 2008
View Hilary Term 2008
View Michaelmas Term 2007
View Hilary Term 2007
View Public meeting held on November 28th 2006